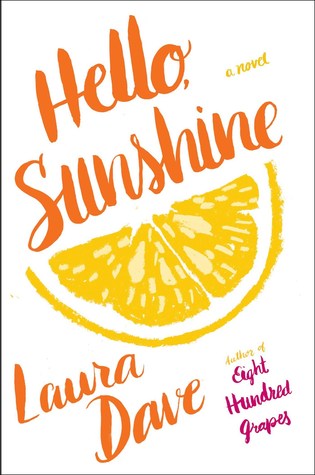 Sunshine Mackenzie has it all…until her secrets come to light.

Sunshine Mackenzie is living the dream—she's a culinary star with millions of fans, a line of #1 bestselling cookbooks, and a devoted husband happy to support her every endeavor.

And then she gets hacked.

When Sunshine's secrets are revealed, her fall from grace is catastrophic. She loses the husband, her show, the fans, and her apartment. She's forced to return to the childhood home—and the estranged sister—she's tried hard to forget. But what Sunshine does amid the ashes of her own destruction may well save her life.

In a world where celebrity is a careful construct, Hello, Sunshine is a compelling, funny, and evocative novel about what it means to live an authentic life in an inauthentic age.
This is one of those books that appears to be a quick, easy read that's defined as chick-lit. All of that is true, but it was more than that as well. I read this book in under 24 hours and I didn't want to stop. It was funny, charming and didn't require my brain to work too much. It reminded me that I actually miss reading fun books like this. It made me start looking for more books just like it. But, best of all, I actually took some lessons away from it. I have been thinking a lot about the life we live on social media prior to this book but this really hit it home for me. What image am I trying to portray about myself? Is it true? Do we really "know" someone because we are social media friends and followers? Am I cultivating true relationships? This book will have me reflecting on those questions for awhile. Looking forward to reading other titles by Laura Dave and novels that have the same qualities that this one had because I just don't read them enough anymore.
* I received this book from the author/publisher in exchange for an honest review *