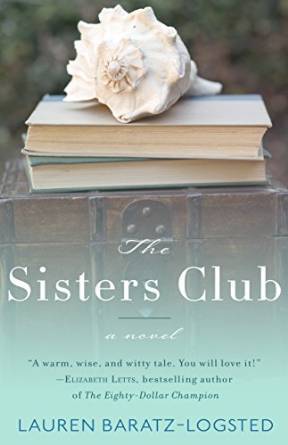 Four women have little in common other than where they live and the joyous complications of having sisters. Cindy waits for her own life to begin as she sees her sister going in and out of hospitals. Lise has made the boldest move of her life, even as her sister spends every day putting herself at risk to improve the lives of others. Diana is an ocean apart from her sister, but worries that her marriage is the relationship separated by the most distance. Sylvia has lost her twin sister to breast cancer, a disease that runs in the family, and fears that she will die without having ever really lived.
When Diana places an ad in the local newsletter, Cindy, Lise, and Sylvia show up thinking they are joining a book club, but what they discover is something far deeper and more profound than any of them ever imagined. With wit, charm, and pathos, this mesmerizing tale of sisters, both born and built, enthralls on every page.
I really enjoyed reading this title! It read quickly and I thought the pacing was good. The relationship between these women was fascinating to watch develop. I had to suspend belief a little bit because I wasn't sure that these women really would develop a relationship so quickly in this way. But I appreciated a break from the norm book that depicts women as hateful to each other. I loved each of the women and was rooting for them to become better. My only disappointment was the lack of books in the actual book. Aside from the titles mentioned at the beginning of each new section, they didn't seem to tie into anything. For a group that started in a bookshop, I would have liked to hear a little more about that. Overall, I would recommend this book to anyone who likes reading books about relationships among women in a positive way.
* I received this book from the author/publisher in exchange for an honest review *