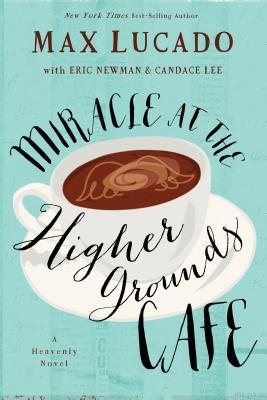 What if you could ask God anything? What would you ask? And how would he answer?

Chelsea Chambers is on her own. After a public split from her NFL superstar husband, Chelsea takes a bold step out of the limelight and behind the counter of the Higher Grounds Cafe, an old-fashioned coffee shop in dire need of reinvention. But when her courage, expert planning, and out-of-this-world cupcakes fail to pay the bills, this newly single mom finds herself desperate for help. Better yet, a miracle.

When a catastrophe strikes and her ex comes calling, Chelsea begins to wonder if the whole universe is conspiring against her quest to make it on her own. After a shocking discovery opens her eyes to the unseen world around her, Chelsea finds the courage to ask, and heaven answers in a most unexpected way."
To put it simply, I really enjoyed reading this book. It was a wonderful reminder of how powerful God is and He truly can do anything. The story was cute, without being too predictable. This book made me want to go to a coffee shop and had me wishing Higher Grounds Cafe truly existed. I would recommend this to anyone looking for an uplifting, quick read.
* I received this book from the author/publisher in exchange for an honest review *